Members Only - News and Information
Melbourne Meeting:
Saturdays - four meeting per annum
Next meeting: Sat. 3 December 2016 at 1:00 pm
Mulgrave Country Club - Country Bistro
Corner Wellington & Jells Roads, Mulgrave
Lunch meetings are held at a suitable hotel bistro on a Saturday afternoon.
Recent venies have included the Original Wheelers Hill Hotel, Glen Waverley and the Mulgrave Country Club, Mulgrave.
Ralph Bartlett will contact Melbourne members to advise of the specifics of the next meeting.
Meals are at each members personal expense.
Sydney Meeting: 29 November at 6:00 pm
Sydney meetings are held in the early evening (usually 6 pm or 6:30 pm) at Mosman Scout Hall (The Barn), 3C Avenue Road, Mosman.
The next meeting will be the 2016 Annual General Meeting of Flags Australia. Members are requested to lodge a proxy if they are not able to attend. The Agenda has been posted to members.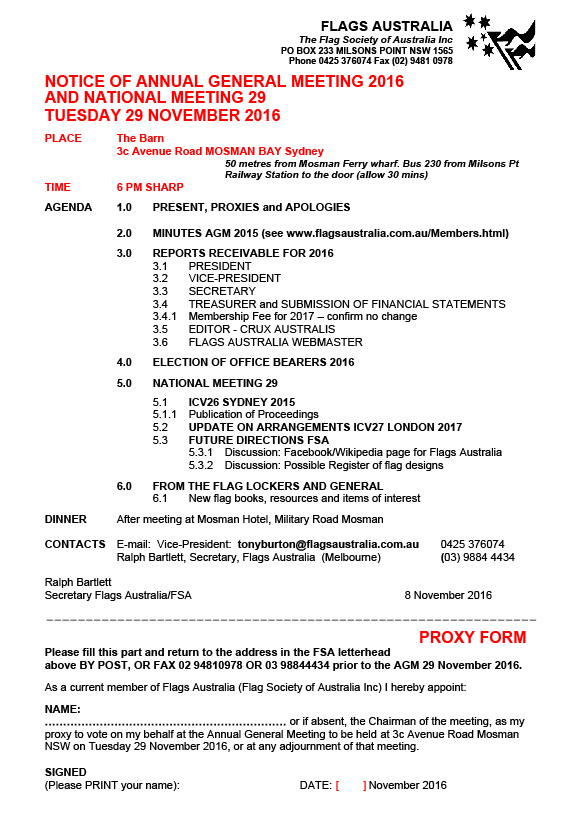 Rules of Flags Australia under the Associations Incorporation Reform Regulations (2012)(Vic) adopted at Annual General Meeting 2014.
Minutes of 2015 Annual General Meeting of Flags Australia 3 November 2015